Yep, that's right, it's ScrapMatters 4th birthday, and we are celebrating with a HUGE blog train/scavenger hunt! If you are to my blog, you are almost done (whew!), and I know you've collected some amazing bits and pieces along the way! The last bit you should have gotten is from the incredible
Kat
(I just love her!). If you've gotten lost along the way, or started in the middle, don't forget you can find the full list on the
ScrapMatters blog
. Anyway...welcome to my little corner of the internet, I'm Becca, aka becca372, and I'm glad to have you here!

I used our gorgeous new kit, Garden Party (free with $20.00 purchase!!!) to create a quick page for you. I kept it fairly simple...and I'm loving it, myself...I used it to scrap my beautiful neice at her third birthday party! Here's my page... (sorry if, for some reason, it doesn't work...I've had to upload it from photobucket...my file on my EHD is being wonky). Everything from the page (font included!) is from the Garden Party kit! It's awesome!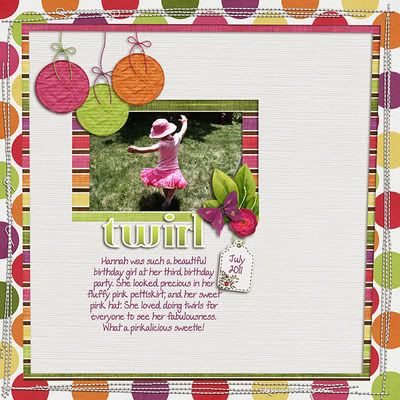 and here's the preview of your QP! Oh, and FYI, I layered it...so the element clusters are on one layer, there's a layer for the journaling, and the stacked paper is another layer. So it's very customizable...if you don't like my elements, leave them off, and just use the stacked paper! It also lets you slide the title under the elements if you want to...which I always seem to want to do on QPs, and never can, haha!


(sorry if it's small...blogger and I are fighting tonight, and I'm waaaay too tired, so I'm done arguing...) DOWNLOAD IT
***HERE***
Now, you have just a couple more stops on this amazing train! Your next stop is with
Crystal
(SugarPieScraps)...so get going! Happy Birthday ScrapMatters!!!
Don't forget, either...We've got 30% off Personal Use products, and 20% off Commercial Use products all weekend long...and a great store collab for FREE with a $20.00 purchase! We've also got lots happening in the forum and chat room, with games, chats, and speed scraps galore, so stop by and hang out!